content area
SK Telecom's CEO Park Jung-ho Suggests "Hyper-Collaboration" at CES 2020
2020.01.09
Print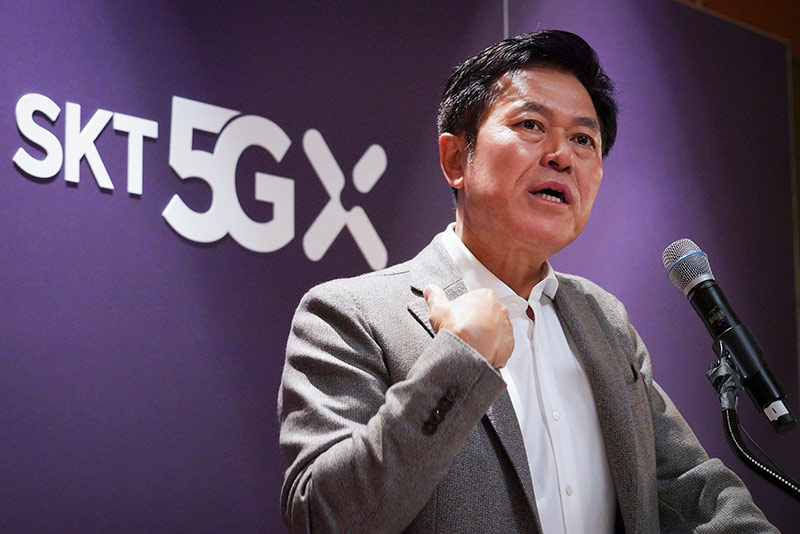 SK Telecom's President and Chief Executive Officer (CEO) Park Jung-ho today held a press conference at CES 2020.
■ Hyper-Collaboration in Artificial Intelligence (AI)
At the press conference, SK Telecom's CEO suggested "Hyper-Collaboration" with diverse Korean ICT companies to achieve AI-driven innovations.
CEO Park said that SK Telecom has been already playing a pivotal role in realizing Hyper-Collaboration with players of diverse industries and cited the birth of Wavve, an OTT video service jointly launched by SK Telecom and three Korean terrestrial broadcasters, as a meaningful result of this form of cooperation.
He met with Koh DJ (Dong-jin), President and CEO of Samsung Electronics, at CES 2020 to suggest Hyper-Collaboration in AI. Moreover, SK Telecom has also entered into a strategic partnership with Kakao, a leading mobile lifestyle company in Korea, to cooperate in AI.
Park stressed that Hyper-Collaboration will lead to valuable business opportunities in the global market through strengthened competitiveness in AI.
■ Expanded Global Ecosystem
CEO Park said that SK Telecom is partnering with major global players, including Microsoft, Amazon Web Services (AWS), Deutsche Telekom and Sinclair Broadcast Group, to develop and offer powerful 5G services. He also mentioned SK Telecom's partnership with Byton, a Chinese EV maker, announced yesterday at CES 2020.
He emphasized that SK Telecom will continue to focus on building an enriched global 5G ecosystem through strengthened relationships with global companies.
■ Maximizing Corporate Value through Dual Operating System (OS)
CEO Park said that SK Telecom will increase corporate value by adopting a new business management structure 'Dual OS' to maximize the performance of two main growth engines: Mobile Network Operations (MNO) Business and New ICT (Media, Security, Commerce) Business. For its MNO Business, SK Telecom will introduce a wide range of new 5G use cases, while strengthening its business-to-business service offerings, to deliver true benefits of 5G.
He also announced vision for its New ICT Business: Achieving 10 million paid subscribers in Media Business; exceeding KRW 1 trillion in revenue in Security Business through convergence (physical & information) security services; and positioning as a game changer in commerce industry through domestic and international partnerships.
Park concluded his press conference by saying that SK Telecom is rapidly shifting itself from a mobile operator to Total ICT Company backed by strong growth of its New ICT businesses, which take up around 40% of SK Telecom's consolidated revenue.