content area
SKT to Expand 5G Content Business via Jump Studio
2020.10.20
Print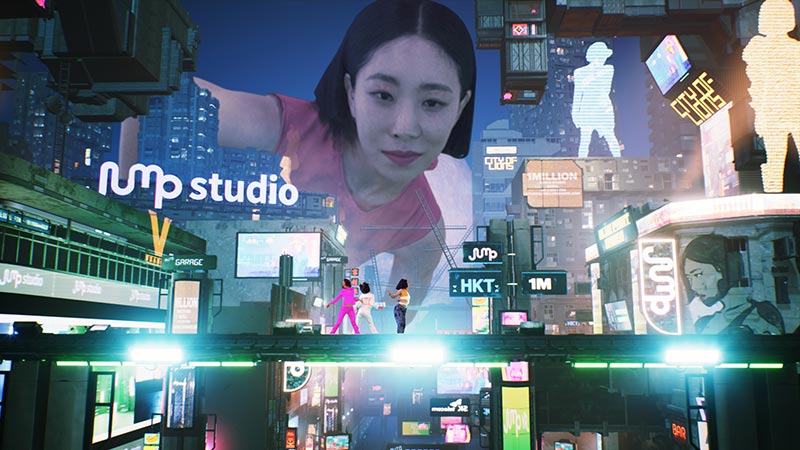 SK Telecom (NYSE:SKM, hereinafter referred to as "SKT") today announced that it has expanded and relocated Jump Studio, Asia's first Mixed Reality Capture Studio using Microsoft's volumetric video capture technology, to its headquarters (SKT-Tower), and unveiled plans to promote 5G content business in full-scale.
Jump Studio was initially opened in SK Namsan Building in April 2020 as a result of close collaboration between SKT and Microsoft.
To celebrate the expansion and opening of Jump Studio, SKT released the video of the volumetric performance by world's famous Korean choreographer Lia Kim through the official YouTube channel of 1 Million Dance Studio on October 20, 2020.
*URL for Lia Kim's performance: https://youtu.be/r3mH76gwNMs
Global fans can enjoy Lia Kim's fascinating performance through the highly immersive video realized through advanced mixed reality technologies, where she dances with multiple 3D holograms of herself and appears as gigantic holograms.
Jump Studio offers the industry's most advanced immersive media technologies. It uses Microsoft's volumetric video capture technology to create holographic videos by shooting a person's dynamic movements through 106 cameras. By combining these with SKT's 'T Real Platform,' which is built with spatial recognition and rendering technologies, the result is highly immersive mixed reality content that can be played on most devices including Android/iOS smartphones, head mounted displays and AR glasses.
The core competitiveness of Jump Studio lies in the fact that it can significantly reduce both time and cost needed for content production. The production process, which used to take months, can now be completed within just one to two weeks and at less than half the cost. The short 3D holographic video of Lia Kim was completed within a week at Jump Studio.
Armed with Jump Studio, SKT plans to promote its 5G content business in two different directions at the same time. It will focus on producing truly immersive contents at reasonable costs for the entertainment, advertising, sports and education companies, while also actively distributing content through Jump AR and Jump VR apps in Korea and international markets.
With the growing importance of non-face-to-face services driven by the Covid-19 pandemic, an increasing number of companies are seeking new and differentiated ways to enhance their customer experience. SKT has been actively leveraging Jump Studio to create innovative visual contents that meet the needs of diverse companies.
For instance, in May 2020, SKT and SM Entertainment successfully presented a 3D mixed reality performance at Super Junior's online-only paid concert titled "Beyond Live." During the show, a 12-meter-high hologram of Choi Si-won, a member of the boy band, popped out from the back of the stage to impress the 123,000 global audience.
As AR and VR services are emerging as one of the most attractive 5G services, SKT will also focus on distributing high-quality contents in both Korean and overseas markets by dramatically increasing the content libraries of Jump AR and Jump VR apps.
The company is currently in close talks with a number of major mobile carriers and media companies in Europe, North America and Asia for collaboration in Jump AR and Jump VR services as well as joint investment or production of AR and VR contents.
It already signed a Memorandum of Understanding (MOU) with PCCW Group (Hong Kong Telecom, PCCW Media) to launch Jump AR and Jump VR services in Hong Kong and Macau. Under the MOU, the two companies will cooperate in the marketing of Jump AR and Jump VR; jointly produce and invest in 5G contents; and develop new AR and VR business opportunities.
PCCW will hold exclusive marketing rights for Jump AR and Jump VR services in Hong Kong and Macau, and provide promotional benefits for 5G subscribers along with Chinese language support.
"We will make utmost efforts to shape Jump Studio into the leading content creator hub in Asia," said Ryu Young-sang, President of Mobile Network Operations Division. "We will introduce a wide variety of realistic media contents fit for the age of non-face-to-face communications brought by the Covid-19 pandemic."
Steve Sullivan, General Manager of the Microsoft Mixed Reality Capture Studios, said, "We're proud to have Jump Studio as our licensed partner in Korea. In a short time, they've already delivered several amazing high-quality volumetric experiences, leveraging the power of 5G to create innovative new entertainment experiences across K-pop, dance, movies, music, and sports. We are looking forward to partnering with you in the years ahead."