content area
SKT Expands into Subscription Market with 'T Universe'
2021.08.25
Print
Unveils a new brand T Universe, which represents a new universe of subscription services created for all

Plans to launch 'Universe Pass,' subscription packages that offer differentiated benefits including free international delivery for products on Amazon Global Store, 11st points and Google One

Plans to shape T Universe into a subscription commerce platform by expanding its subscription product line-up

Aims to reach 36 million subscription customers and KRW 8 trillion of annual gross merchandise value (GMV) by 2025
SK Telecom (NYSE:SKM, hereinafter referred to as "SKT") today held a press conference to announce its plans to expand into the subscription market and unveiled its new subscription brand 'T Universe.'
The subscription economy is growing at a rapid pace. In particular, backed by continuous increase in the sales of subscription products and services in spite of the COVID-19 pandemic, coupled with the rise of the younger generation as the heaviest consumers in the subscription market, there is a rosy outlook for the subscription economy going forward.
◼ Creating a new universe of subscription services with T Universe
SKT's subscription brand name 'T Universe' embodies the company's vision of creating a 'subscription Platform for All', meaning that it will be created in collaboration with partners - ranging from SMEs and startups to global companies - and used by all customers in Korea.
It also symbolizes SKT's commitment to satisfying varying needs and preferences of customers through a new universe of subscription services.
The company stated that T Universe will continue to expand with increased cooperation with partners, creating greater value for all.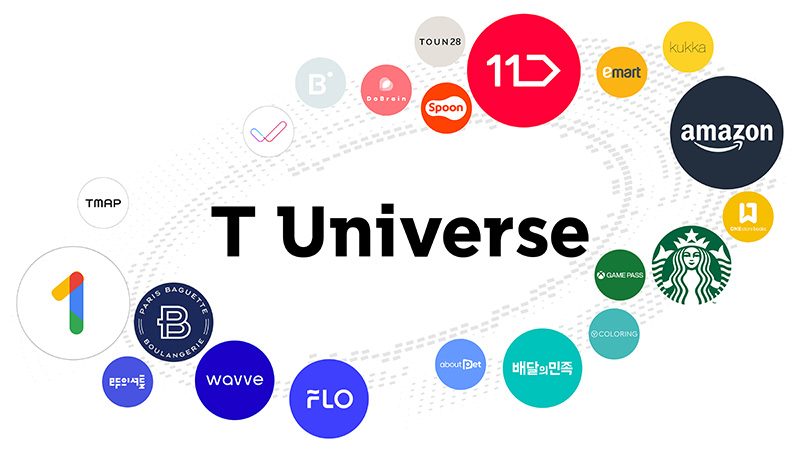 ■ Introducing powerful subscription products in collaboration with partners such as Amazon, 11st, Google and Wavve
SKT will launch a variety of subscription products created with diverse partners on August 31, 2021.
The company is already working closely with partners from various areas and industries, including online/offline shopping (Amazon, 11st, Emart, etc.), food & beverage (Starbucks, Paris Baguette, Baedal Minjok, etc.), digital service (Google One, Wavve, Flo, V Coloring, Xbox Game Pass, Spoon Radio, etc.), mobility service (T Map, Modoo Shuttle, etc.), cosmetics (Toun 28), flower subscription (Kukka), pet products (About Pet), insurance (AIA Insurance), nutritional supplements (Biopublic) and education (DoBrain). It is currently in talks with around 100 other companies to further expand its subscription service offerings.
In particular, subscription packages ("Universe Pass") that group together various subscription products centered around Amazon Global Store on 11st will offer exceptional value and benefits to customers. 
At a monthly price of KRW 9,900, 'Universe Pass - All' will provide  coupons worth KRW 10,000 and free international delivery with no minimum spend for Amazon Global Store products on 11st 1). It will also provide KRW 3,000 worth of 11st points, Google One Membership with 100GB of cloud storage 2), and one additional subscription product worth from KRW 8,000 to KRW 10,000. 
Free international delivery with no minimum spend for goods on Amazon Global Store on 11st is a promotional offer. Terms and conditions for free delivery are subject to change with prior notice. 
Google One Membership with 100GB of cloud storage will be given to those who subscribe to Universe Pass in 2021.
The one additional subscription product can be changed every month. Customers can choose one product from many popular brands like Baedal Minjok, Paris Baguette, Emart, Starbucks and Kukka 3), and many more subscription products will be added to the list going forward.
Baedal Minjok: coupons worth KRW 8,000, Paris Baguette: up to 30 % discount benefits, Emart: four KRW 3,000 coupons, Starbucks: Americano 4+1 coupons, twice per month, Kukka: KRW 9,000 coupon 
Priced at KRW 4,900 per month, 'Universe Pass - Mini' will provide coupons worth KRW 10,000 and free international delivery with no minimum spend for Amazon Global Store products on 11st. Subscribers will also get KRW 3,000 worth of 11st points and will be able to choose between Wavve Lite service or Google One Membership with 100GB of cloud storage.
Providing much greater economic benefits in return for what the customers actually pay for, Universe Pass boasts unmatched competitiveness compared to other paid membership products on the market.
Through launch promotions, customers will be able to get one month of Universe Pass-Mini for KRW 100 and Universe Pass-All for KRW 1,000, regardless of their mobile carrier.
SKT plans to keep expanding its partnerships to develop more attractive subscription products that fit customers' various lifestyles.
◼ Offering a differentiated shopping experience at Amazon Global Store on 11st 
Scheduled to open on August 31, 2021, Amazon Global Store will allow customers in Korea to shop tens of millions of Amazon US products on 11st. 
Amazon Global Store will also offer four to six days delivery for over 160,000 products that are most frequently purchased by customers in Korea. Other products on Amazon Global Store will be delivered within an average of six to ten business days.
All deals on Amazon in the US will be applied to Amazon Global Store for the same products and customers will be able to enjoy exclusive deals on Amazon Global Store. 
Customers can search and view product information in Korean, and pay in Korean won using 11st payment methods. 11st will operate a customer service center dedicated to purchases on Amazon Global Store to enhance customer experience. 
SKT expects that Universe Pass will allow customers to feel as if they are shopping domestically through free international shipping benefits with no minimum spend. Minimum spend for free delivery for non-subscribers is set at KRW 28,000. 
■ Transforming distribution channels to suggest customized subscription products both online and offline 
To provide customers with a first-hand experience of its subscription products, SKT will operate around 1,000 specialized subscription stores by installing smart tables and subscription service experience zones at its offline retail stores throughout the nation. 
It also plans to nurture over 1,000 consultants to provide specialized care and assistance for subscription customers. SKT's customer care center, which handles over 100 million customer calls per year, is fully prepared to offer professional consulting for subscription products. Customers will also be able to easily sign up for the subscription products via online channels of SKT (T World) and its subsidiaries (11st, etc.) that boast a combined total of 50 million monthly active users (MAU).
Building on these offline and online channels, SKT also has in place an artificial intelligence (AI) and digital transformation (DT) system through which it can offer subscription products tailored to each individual's tastes and preferences based on their data. Now this will enable customers to find subscription products that fit their needs via both online and offline channels, easily seek consulting for their subscription needs, and conveniently enjoy the benefits the products offer. 
By leveraging its strong online and offline marketing channels, SKT will have unmatched competitiveness in the subscription market. 
Over the past 30 years, SKT has accumulated deep knowhow and expertise in the subscription business by providing over 20 million subscription products in the area of telecommunications including mobile plans, Internet/IPTV and value added services; operating over 3,300 offline distribution networks, top-notch customer care center and diverse online channels; and securing billing and accounting infrastructure specialized for subscription services.
Now, by suggesting a new subscription lifestyle based on strong collaboration with its partners, SKT is set to win the hearts of all customers in Korea, successfully expanding its reach beyond the telecommunications market.
■ Aiming for online-offline subscription commerce platform
Going forward, SKT plans to create an advanced online-offline subscription commerce platform based on AI and DT.
By analyzing massive data from a wide variety of subscription products, coupled with its existing data generated from telecommunications and other ICT businesses, SKT will be able to better connect customers to ideal subscription services based on an in-depth understanding of contextual customer data such as preferred contents and personal interests.
Through these efforts, SKT expects to reach 36 million T Universe subscribers and KRW 8 trillion of annual GMV by 2025. During the process, it will also develop growth opportunities for subscription-related businesses like identity authentication and payment, while also promoting win-win growth with its partners.
"T Universe aims to create a new universe of subscription services that benefits both customers and business partners," said Park Jung-ho, CEO of SKT. "By launching the subscription business that goes beyond the realm of telecommunications, we will suggest a brand new subscription lifestyle for our customers."