content area
SKT Publishes 6G White Paper to Present Blueprint for Future Networks
2023.08.10
Print
SKT releases a white paper to present the direction for the standardization of 6G as well as the early 6G ecosystem. 

The white paper outlines key requirements for the success of 6G, along with the evolution of the future network, which will be applied with AI, quantum security, and so on.

SKT has been making continuous efforts to lead 6G standardization by actively participating in global organizations like the NGMN Alliance and IOWN, and conducting collaborative work with partners such as NTT DOCOMO.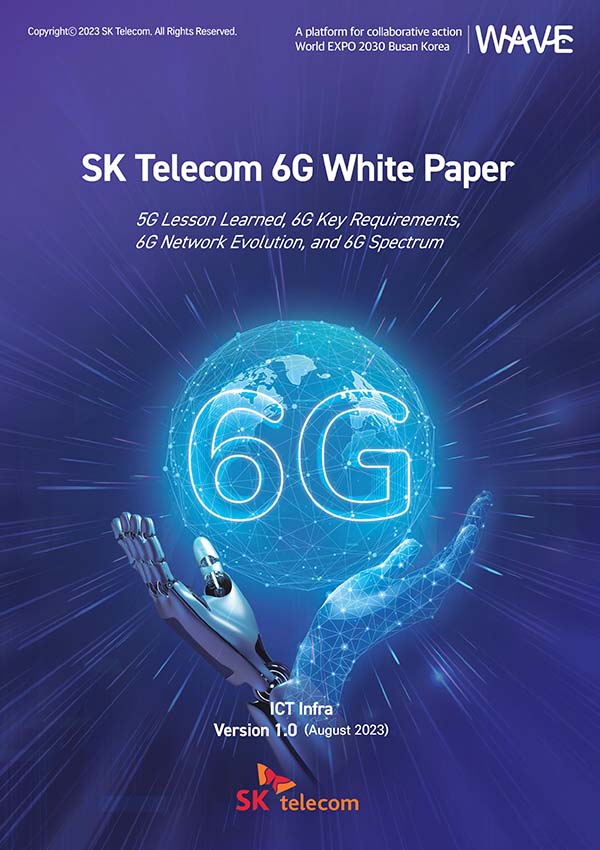 SKT (NYSE:SKM, "SKT") today announced that it has released 6G White Paper to present key requirements for 6G standardization and the direction of future network evolution.
The standardization process for 6G is in its early stage. In June 2023, the International Telecommunication Union-Radiocommunication Sector (ITU-R) Working Party (WP) 5D published the Framework Recommendation of the 6G Network, which is expected to be commercialized around 2030. In addition, the first discussion on 6G candidate frequencies is scheduled to take place at the World Radiocommunication Conference (WRC) at the end of this year, and WP 5D is expected to begin working on the technical performance requirements of 6G from 2024.
As part of its efforts to contribute to the standardization of 6G, SKT published a white paper that contains its views on 6G key requirements and 6G evolution methodology, along with its opinions on the latest trends in frequency standardization.
The 6G White Paper also provides analysis, development directions and methodologies pertaining to promising 6G use cases, technology trends, and candidate frequencies.
Based on its experience gained through the world's first commercialization and operation of 5G, SKT suggests 6G key requirements to realize expected usage scenarios and services in the 6G era.
The 6G key requirements include powerful 6G products and services; simple architecture options; technologies that can expand coverage; and device heat and power consumption reduction technologies to improve user experience.
Moreover, with the commercialization of 6G, SKT projected that megatrends like AI, power saving and quantum security will spread across all network areas, and technologies specialized for each network area, such as radio access network, core network, transport network, and aerial network, will be applied and evolved.
In addition to the publication of the 6G White Paper, SKT is working to lead the early 6G standardization and technology ecosystem through collaboration with diverse overseas partners.
In February 2023, SKT and NTT DOCOMO jointly released two white papers, one on green mobile networks, and the other on requirements for future 6G networks.
SKT have been actively participating in global organizations and initiatives, including the Next Generation Mobile Networks (NGMN) Alliance and the Innovative Optical and Wireless Network (IOWN), while expanding its cooperation with major telcos throughout the globe.
Furthermore, through research and development partnerships, the company is also having discussions with equipment manufacturers and IT companies on 6G candidate technologies such as AI-based base stations.
"In collaboration with many global telcos, we are making proactive efforts to lead the 6G standardization and technology ecosystem," said Yu Takki, Vice President and Head of Infra Tech Office of SKT. "By further expanding our partnerships with global telcos and manufacturers, and leveraging our technological know-how and experience in 5G, we will not only lead the advancement of 5G network technologies, but also pioneer the development of 6G technologies."
※ Click here to download SKT's 6G white paper.