content area
SK Telecom Joins Hands with Byton for ICT-Automobile Convergence
2020.01.08
Print
SK Telecom and Byton signed MOU at CES 2020 to discuss the development and application of in-vehicle infotainment (IVI) system and plan for innovative distribution of Byton's electric vehicles in Korea

At CES 2020, SK Telecom is showcasing its 'Integrated IVI,' a system built with mobile navigation service (T Map), personalized music streaming service (Flo), and OTT video platform (Wavve)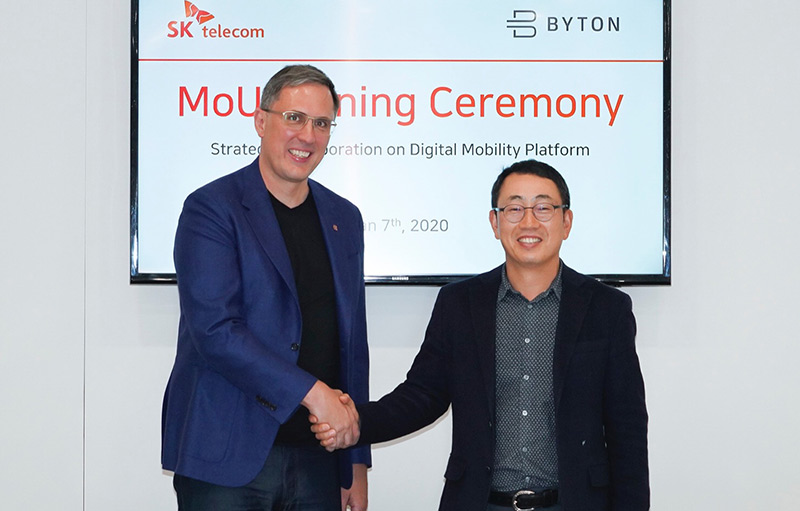 ▲ Ryu Young-sang, VP and Head of MNO Business of SK Telecom (Right), Daniel Kirchert, CEO of Byton (Left) sign MOU for business cooperation
SK Telecom today announced that it signed a Memorandum of Understanding (MOU) with Byton, a Chinese premium smart electric vehicle (EV) manufacturer, to develop joint business opportunities in the Korean EV market.
The MOU signing ceremony took place at CES 2020 being held in Las Vegas with the attendance of senior executives of both companies including Ryu Young-sang, Vice President and Head of MNO Business of SK Telecom, and Daniel Kirchert, CEO of Byton.
Under the MOU, SK Telecom and Byton will discuss the development and application of an in-vehicle infotainment (IVI) system that integrates SK Telecom's innovative digital products and services in the areas of mobile connectivity, navigation, music/video streaming and voice control to meet the needs of Korean consumers.
In September 2019, Byton set up a partnership with Myoung Shin Co., an automotive components supplier in Korea, to jointly produce Byton M-Byte vehicles at Gunsan plant targeting the Korean market.
Since launching the world's first 5G service, SK Telecom has been focusing on offering diverse 5G-powered services to drive innovations in diverse areas including media and mobility. 5G, which is designed to significantly reduce latency, is being highlighted as a key factor that can improve the completeness of autonomous vehicles that are required to promptly detect and respond to surrounding situations while travelling on roads.
At the same time, 5G will allow for a seamless and reliable in-car entertainment experience. With 5G connectivity, electric vehicles will not only enable drivers to enjoy large-volume UHD services seamlessly at super-fast speeds while travelling, but also support the application of diverse technologies/services including live HD map update, a pivotal technology for autonomous driving.
SK Telecom's 5G network could help Byton accelerate its progress towards realizing a superior in-car experience and completely autonomous vehicles while securing a competitive edge in the upcoming market for autonomous cars.
At CES 2020, SK Telecom is showcasing its Integrated IVI system built with mobile navigation service (T Map), personalized music streaming service (Flo), and OTT video platform (Wavve).
Moreover, SK Telecom and Byton will discuss innovative ways to facilitate the distribution of Byton's electric vehicles in Korea to increase customers' convenience.
"SK Telecom's cooperation with Byton represents a crossover between ICT and automobile sectors, said Ryu Young-sang, Vice President and Head of MNO Business of SK Telecom. "Going forward, SK Telecom will continue to work with diverse global players to create innovative services that can further enrich customers' lives."
"SK Telecom has abundant technical expertise and resources in information communication and data services sector. This is perfectly in line with the vision of Byton to build smart cars in the mobility era. Moving forward, the two sides will work together to expand a superior in-car digital experience and tap the potential of mobility services," said Daniel Kirchert, CEO of Byton.