content area
SKT to Establish a Convergence Security Company by Merging SK Infosec and ADT Caps
2020.11.27
Print
SK Telecom (NYSE:SKM, hereinafter referred to as "SKT") today announced that its subsidiaries SK Infosec and Life and Security Holdings (LSH), the parent company of ADT Caps, each held a board of directors meeting and approved the merger.
SK Infosec and LSH will merge within this year, and then merge ADT Caps within the first quarter of 2021 to complete the process.
ADT Caps is the second largest physical security company in Korea with 700,000 subscribers. Its main business areas include unmanned security, unmanned parking and access control. It reported KRW 913 billion in revenue in 2019.
SK Infosec is the leading information security company in Korea with a revenue of KRW 270 billion in 2019. It offers information security consulting services, cybersecurity monitoring/control services and system integration.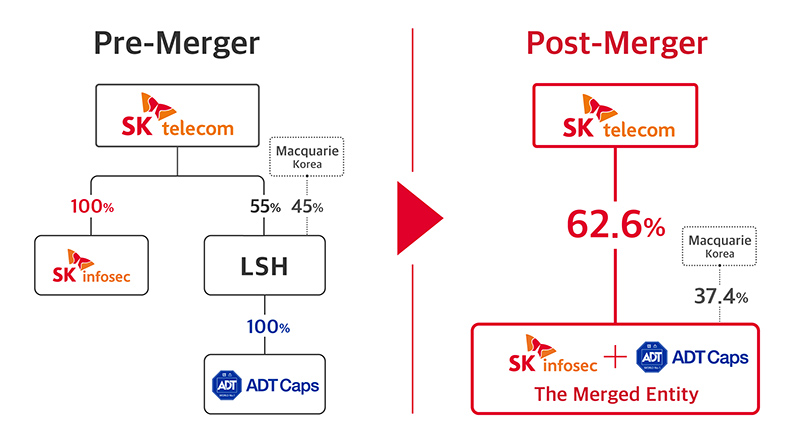 SKT will grow the merged entity into No.1 convergence security company in Korea worth KRW 5 trillion within three years of its launch by leveraging the advanced physical and information security technologies of ADT Caps and SK Infosec.
The specialized security company will introduce a whole new level of convergence security services by combining SKT's ICT including 5G and artificial intelligence (AI), SK Infosec's information security platform and ADT Caps' state-of-the-art security monitoring/control system and dispatch security service assets.
In particular, for individual customers, it will be able to offer a service that safeguards personal information by preventing hacking of surveillance cameras or Wi-Fi networks, along with a dispatch security service to protect them against foreign intruders.
It can also allow enterprise customers to build an access control system applied with IoT sensors, intelligent surveillance cameras and biometrics, while preventing safety accidents through a converged security monitoring/control system that protects IT systems against potential physical and cyber attacks.
The merged entity will focus on realizing convergence services tailored to the needs of individuals, homes, enterprises/industries and the society, as well as AI-based integrated security monitoring/control systems. It will also speed up its preparations for an initial public offering (IPO) by achieving strong and fast growth.
Moreover, the merged entity will actively seek global market opportunities. It will first focus on exporting its convergence security products and services to China and Southeast Asia, and then expand further into the global market through partnerships and collaboration. SK Infosec has already forged strong ties with Vingroup, the largest private conglomerate in Vietnam.

"Through the merger of SK Infosec and ADT Caps, we will lead the future convergence security industry by developing innovative security services and platforms, and accelerate our growth as a global ICT company," said Park Jung-ho, President and CEO of SKT.