content area
SKT to Lead International Standardization of Quantum Cryptography Technologies
2022.07.19
Print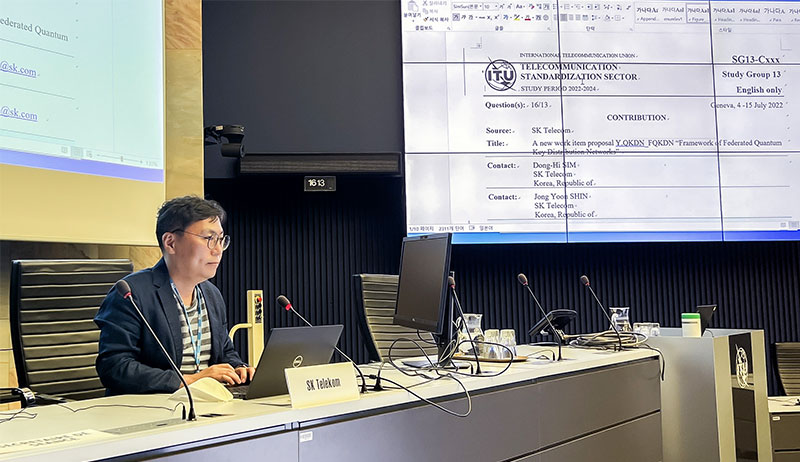 SK Telecom (NYSE:SKM, hereinafter referred to as "SKT") today announced that its two technologies regarding the control and interworking of quantum cryptography communication networks were adopted as new work items at the ITU-T meeting held in Geneva, Switzerland. They will be approved as international standards through discussions among ITU-T member countries.
The two technologies chosen as work items are: 'Quantum Key Distribution Network Interworking – Software Defined Networking Control'; and 'framework of Quantum Key Distribution Network Federation.' Both of these technologies are essential for the popularization of quantum cryptography communication technologies.
'Software Defined Networking Control System for Interworking of Quantum Key Distribution Networks' allows telecommunication companies to manage their existing communication networks and QKD networks in an integrated and efficient manner.
It also enables integrated management of quantum cryptography communication networks using QKD of different equipment companies, which will be a huge boost to the growth of the related ecosystem as telecommunication companies will be able to work with multiple QKD equipment companies to deploy quantum-powered networks.
'Quantum Key Distribution Network Federation' can be likened to international roaming between mobile operators. Just like international roaming provides users with mobile services beyond national boundaries, 'Quantum Key Distribution Network Federation' allows for the provision of quantum-safe communication services for customers regardless of whose QKD network they are on by supporting interworking/federation between QKD networks of different service providers.
Going forward, this technology is expected to not only enable the federation of QKD-equipped national backbone network and QKD networks of telecommunication companies to support joint roaming services in emergencies, but also allow for the federation of satellite communication networks and QKD networks to offer a new range of quantum cryptography communication services in the era of 6G mobile communication.
Meanwhile, together with the SK Broadband consortium and ID Quantique, SKT has implemented projects for the Ministry of Science and ICT, building pilot QKD infrastructure and developing application services for 17 different institutions from the public, medical and industrial sectors. In addition, the company is currently working to expand into the defense and public markets in cooperation with competitive Korean cryptography companies.
"The approval of these two items by ITU-T carries a significant meaning as they will serve a pivotal role in accelerating the adoption of quantum cryptography communication throughout the globe," said Ha Min-yong, Chief Development Officer of SKT. "We will continue to drive the growth of the quantum ecosystem by taking an active part in the international standardization of quantum technologies and developing attractive services and business cases.